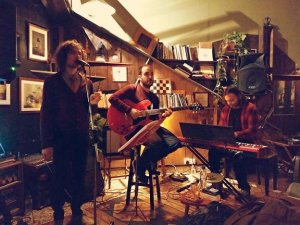 Event Details
Sung Mellow is a jazz trio focusing on the jazz ballad, as well as blues & folk, basing their performance on simplicity and mellowness. Join them for one performance at Technopolis 20 in Paphos, on Sunday, 20th of May 2018, at 8:30pm and enjoy a live set that will include classic jazz vocal numbers as well as re-workings of folk and blues songs, done their own unique way. They often incorporate improvisation in order to give new forms to the songs on the spot. The band consists of Lefteris Moumtzis (vocals), Ermis Michail (guitar) and Andreas Panteli (piano).
Entrance: 10 euro
Reservations are necessary at 70002420 (calls only).
A few words about the musicians
Lefteris Moumtzis is a musician and songwriter. With a career spanning nearly twenty years, Lefteris has produced acclaimed solo and band recordings. His albums with Trio Tekke represent milestones of contemporary Greek rembetiko music, while his records as J.Kriste, Master of Disguise our a perfect blend of 70's folk and 'Reflections' era Greek composer Manos Hatzidakis. His composing offerings can also be found on records from bands like the rock trio The Low Spark and the Greek prog-folk group Sotires in which he is a steady member as well. He has also composed music for several theatrical performances, and he is the organiser and artistic director of the Fengaros Festival, Fengaros Music Village and Lefkosia Loop Festival.
Ermis Michail was born at 1988 in Limassol, Cyprus and is one of the most active musicians of the island. In 2008 he was accepted at the Rotterdam Conservatory (Jazz Department). He performed at the North Sea Jazz Festival in 2010 as a member of the Rotterdam Big Band. In 2011 he finished his Bachelor degree in Music (Jazz Guitar) with honors. In 2012 Ermis Michail won the 1st prize at "The Nicolas Economou Foundation (NEF) Scholarship Competition". In 2014 he finished his Master's degree in Jazz Guitar at the Rotterdam Conservatory (Codarts). Since then he has collaborated with many established musicians such as Gilad Atzmon, Tony Lakatos, Alexia Vasiliou, Ed Verhoeff and Damian Erksin. During that time he has played in the recording of Cahit Kutrafali's album "As it is"(2016) & "Tranitions"(2018), and has arranged and performed the music of the Vasilikis Anastasiou's "Amalgamation Project" EP album (2014) as well as the new album in 2017 where they performed it at Munich «Zyprischer Fruhlin 2017». In 2016 he released his debut album with his original compositions 'Minor Change». He has composed music for the «13th Summer Dance Festival - Skytali». In 2017 he took part with his quintet at the «My Unique Jazz Festival» in Berlin. In association with "Louvana Records" he created the "Modern Guitar" workshop at the "Fengaros Music Village" 2016-2017. He has also given a jazz workshop at the Yakın Doğu Üniversitesi in collaboration with Cahit Kutrafali. At 2015 he took part with the "Ermis Michail Quintet" at the "Kypria Festival 2015" and the following year performed his and Tony Lakatos's original music at the "Kypria Festival 2016" with the "Invitation Project". He has been the jazz guitar professor at the University of Nicosia since 2013, and has created the "Next Step" project in association with the University's Music Department, which is a series of seminars/webinars, concerts, and recordings with local and foreign artists. Ermis is currently performing with the music groups: "Free Over Four", "Fuzz Bus", "Sung Mellow", "Amalgamation Project", "Alkis Agathokleou 5tet" ,"Cahit Kutrafali Group" and "Ermis Michail Quintet" as guitarist and composer and at selected venues and festivals all over Cyprus and abroad.
Andreas Panteli (1983), Lecturer at the University of Nicosia, is one of the active musicians in the Cypriot jazz scene. As a pianist his focus is on improvisation, and his sound shaped by his influences of classical and jazz music. He studied Jazz Piano Performance at the Rotterdam Conservatory (B.A) and at the Royal Conservatory of Den Haag (M.A). In the last few years he has been performing and presenting his work in festivals and jazz venues around the island and abroad. He writes music for his personal projects, as well as for theatre and dance plays. (Thoc: "Words and Music", Thoc: "An enemy of the People", 13th Summer Dance Festival: "Skytali"). At present he is involved with the music groups: "Four on the Floor", "Fuzz Bus", "Sung Mellow", "Cahit Kutrafali Group" and with the "Εrmis Michail Quintet", with which he recorded for the personal albums of guitarist Ermis Michail's "Minor Change", and bassist Cahit Kutrafali "Transitions" and "As it is", so far presented in Cyprus and Germany.