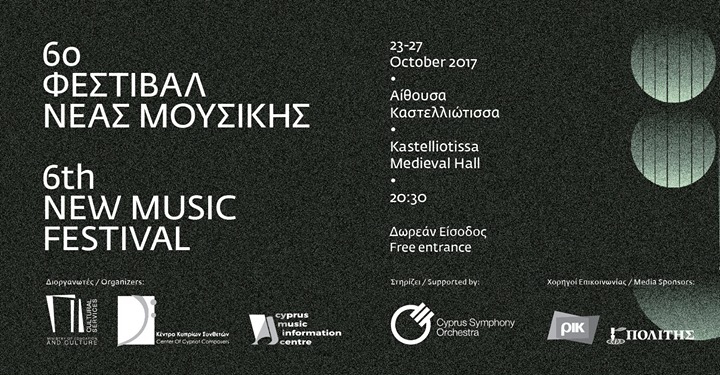 Event Details
The Cultural Services – Ministry of Education and Culture, in cooperation with theCentre of Cypriot Composers and the Cyprus Music Information Centre, are organizing the 6th New Music Festival from 23 to 27 October 2017.
The New Music Festival will present contemporary works by Cypriot and other composers, most in their first world premiere. These works are also the local expression of first-line sound, as it is expressed in the streams of contemporary music today.
Of particular importance to the international profile of the Festival is the hosting of the outstanding modern music ensemble Nieuw Ensemble (Amsterdam, NL), which we will have the opportunity to hear at two concerts on October 25 and 27, featuring the Cypriot soprano Margarita Elia.
Within the framework of the Festival, concerts will be also given this year by the Cyprus Symphony Orchestra, premiering works by Cypriot composers (October 25 and 26 in Limassol and Nicosia, respectively). In addition, the Cypriot Music Ensemble 'Chronos', which in recent years has been successful in the performance of new music, will present a concert dedicated to works by Cypriot composers, opening of Festival on 23 October. The Dutch composer Joel Born will have a special presence at the Festival, giving a lecture on contemporary music and on his own multi-dimensional compositional work. Finally, a concert will also be given by the ensemble of electro-acoustic music of the Centre of Cyprus Composers.
The concerts will take place in the Kastelliotissa Hall (free entrance) and at the Pallas Theater (Cyprus Symphony Orchestra concert). 
All concerts start at 8.30 pm.
For more information visit the
Festival
facebook page:  
Program:
Monday 23rd: Chronos Ensemble (CY)
Tuesday 24th: The Composers Improvisation Ensemble
Wednesday 25th: Nieuw Ensemble (NL). Guest: Margarita Elia.
Thursday 26th: Cyprus State Orchestra. World premieres by Cypriot Composers (Pallas Theater)
Friday 27th: Nieuw Ensemble (NL). Guest: Margarita Elia.