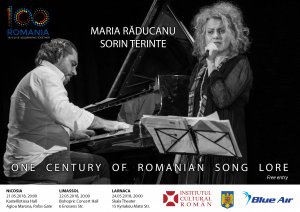 Event Details
A voice and a piano. An intimate and refined duo. And a vast musical material, the Golden Book of the Romanian song, a peerless and inexhaustible foundation for the cultured creation, for today's music.
In celebration of the Romanian centenary, Maria Raducanu, together with the pianist Sorin Terinte, a remarkable accompanist and accomplished virtuoso, proposes a concert that pays homage to a century of Romanian song lore.
The ritual songs, doinas, dirges, hora, folk dance songs interwind with the contemporary rhythms and sonorities. The peasant melodies meet with fiddlers music, the song with Byzantine scent melts into the interwar romance to enrich, at the end of an intensive trip, the urban creation, the refined music of the 70s and 80s.
Maria Răducanu, a well-known name on the Romanian and international jazz scene, has always established, along her career, connections between the archetypal tunes and jazz, the ultimate expression of the freedom in the art of sounds. The result was always spectacular. The rich discography, the constant participation in the concert life and in the festivals in Romania and abroad, in always unprecedented concepts, has outlined her profile of world music singer. The originality of the arrangements and the intensity of her emotions are the unfailing warrant of her success.